I know, I know... Seems like I'm all about the swap lately. Well, get used to it! lol To me there's just something wonderful and amazing about the communal exchange of friendship inherent in a gift swap of any sort. I really think, even beyond the greed, that this connection to another person obtained through gift giving, is what makes Christmas an exciting wonderful time, even if you're not Christian. I, for one, absolutely LOVE giving gifts, and it's my favorite part of the holidays. I like seeing people get excited. :)
So, I recently signed up for three more swaps groups on
Ravelry
:
Knit & Crochet Dishcloth Swap
,
Ten Dollar Swap
, and
12 Dancing Dishcloths
. These are small exchanges, nothing extravagant, which means I get to be really creative on a budget, which is one thing I'm really good at. (For reference, see my mostly handmade bellydance wardrobe, ie
the vest with the feather collar
featured a while back.) And, I just sent out my first package for the first of these groups on Monday. It was for the Knit & Crochet Dishcloth Swap, and the overall theme was animals. We were asked to send our spoilee two dishcloths (knitted or crocheted, your choice) featuring animals.
Well, y'all know me, that's not quite enough of a theme, so when my spoilee suggested she likes sea creatures, I hit on the idea of doing a beachy package.
Here's what I sent:
A "seaweed" project bag
. I make these ALL the time, and I love them for small project bags. They are perfect for making dishcloths on the go because the strap fits easly around your wrist and you can literally stitch anywhere, anytime. It keeps everything nice and neat, and because this one can hold two balls of kitchen cotton, you can work on something a little more complex, if you'd like. I used a sueded yarn, in a nice sage, which not only matched the theme (seaweedy, yes?) but I thought it might be a color she'd enjoy as she likes pale, earthy colors. I wish I had a better pic; here it is with everything in it, ready to be sent on it's way:
Attached to that, you can see a little
"Sea Anemone Pin"
I made. I am obsessed with fiber flowers and flower pins lately, so I knew I'd want to make one for my spoilee. This little pin can be used anywhere: hats, jackets, bags, scarves, shawls, anywhere! This picture above shows the color a bit better.
Of course, I made two animal-themed dishcloths. One is
Sandy the Starfish
, made in an ecru cotton to mimic a starfish lying in the sand. The other is
Daphne the Dolphin
, swimming through deep blue waves. Sand and sea... a little surf and turf, yes? ;) I couldn't find any projects in crochet that I felt really worked with the theme I was going for, so I knitted the cloths. It's been quite a while since I knitted anything, and it was so fun! I flew through these so much faster than I expected to. I think crochet has given me alot more fiber confidence, so my knitting is benefiting, too. Here are the cloths, up close: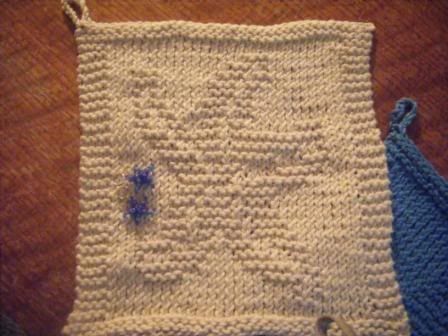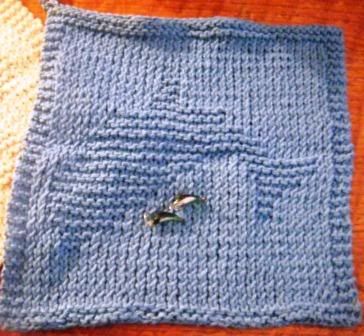 You can see on each one that I also made some stitch markers to go with them. There are two blue starfish and two green dolphins. Also included was a little clip-on calendar featuring beach scenes, some treats for my spoilees boys, and a card to explain it all. Fate put me together with the same person I got to spoil for the
Reducio Sock Swap
last time, and it was nice to get to send her things that weren't HP themed, but that I thought she might still enjoy. She has two boys, like I do, though both of mine are December babies. May/December friendship? LOL I hope she enjoys everything as much as I've enjoyed making it for her!
BB!
~Jeannie