I participate in a swap on
Ravelry
called the
Reducio Sock Swap
. Basically, we swap crocheted or knitted mini socks and other items with a Harry Potter theme. What? You didn't know I'm a Harry Potter nerd? Well, I am! :) Check out Reducio, if you want more info.
Anywho, I wanted to share what i'm sending my partner for Round 6. So....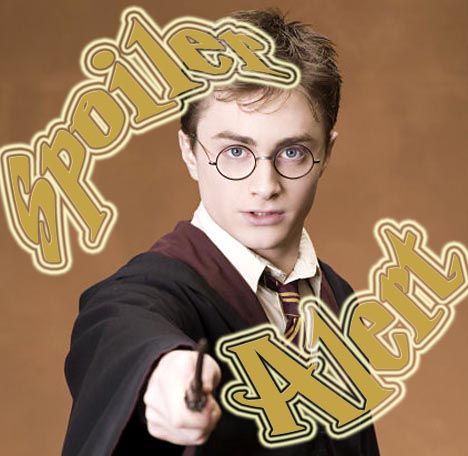 Here's the whole shebang, minus the card, which I simply forgot to include in the pic: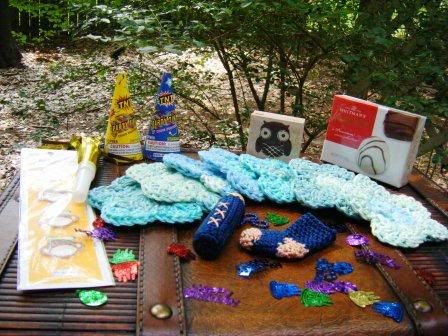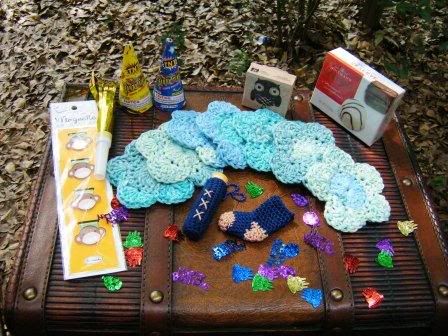 I made a package up as if some of Harry's friends got together and sent him a package of gifts that would mean some special to them.
From the Twins, Fred and George: "poppers" from their new line of Muggle party products, confetti and a noisemaker on the advice of Arthur, their father, as they are traditional Muggle birthday favors. (My spoilee also has two little boys, so I thought they might get a kick out of these.)
From Seamus Finnegan: monkey bookmarks to remind Harry of a night eating animal crackers in the boy's dorm. Seamus ate a monkey that night and promptly started apeing around. (My spoilee also likes sock monkeys and I thought these little guys looked like they would make her smile.)
From Hagrid: an owl. Since Hagrid got Harry his very first owl, the much-missed Headwig, he wanted to get Harry another owl. Not to replace Headwig, mind you, but just because Hagrid can't imagine anyone without a beloved animal friend in their life.
From Ron and Hermione: Once, on another birthday, Ron and Hermione got Harry a box of chocolates from Honeydukes. Harry then threw them away. Chocolate abuse!!!! So, they wanted to get him another box, in the hopes he'll actually get to eat these!
From Neville Longbottom: Neville found these rare Tibeten Turnip blossoms and wanted to send them to Harry. He says they can make things disappear and thought Harry might find them useful. (I picked this project because my spoilee has the pattern in her faves on Rav, she loves cotton yarn, and because of their several purposes. They can be used as makeup removers, dish scrubbers or coasters, all of which make things disappear! There are seven; one for each HP book.)
From Dobby: Of course, the package includes a mini sock and who better to contribute that than Dobby, whom Harry freed from servitude with the gift of a sock. In Ravenclaw colors because my spoilee is a Ravenclaw. :)
From Ginny: a kiss as potent as firewhiskey. I made the lip balm holder (see pic above) and included my favorite lip balm, Burt's Bees. I liked this because the lip balm is obvious for kissing, and you never know when you'll need it, so having a holder for your keychain means your always ready and kissable. Plus, XXX stands for strong alcohol and X stands for kisses. It was a natural match. :)
Finally, a card. Luna picked out the card, so instead of having "Happy Birthday!!" on it, it has penguins on a yellow background and says "Congratulations" on the inside. I just thought that was hilarious for some reason! :D I love Luna!!!
So, that was my package for Reducio 6. I'm sending it out tomorrow and I REALLY hope she likes it! :D:D:D:D
BB!
~Jeannie